TREATY OF PARIS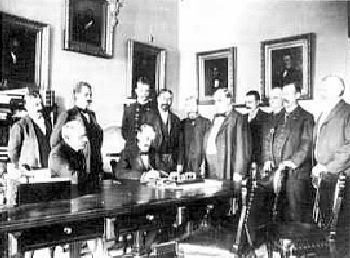 December 10, 1898 Treaty of Paris ends Spanish-American War
Someone once asked me, "If Filipinos were led by Gen. Emilio Aguinaldo together with Adm. George Dewey for the American forces, fought for Philippine Independence against the colonizer Spain and had already declared officially the birth of their independence as a Democratic/Republican country patterned to American system of government on June 12,1896, what democratic logic and right did the American Government have on pursuing the Treaty of Paris where the Philippines was sold for twenty million dollars on December 1898 without due respect, consultation and consent of the Filipino people?"
My reply was simply put...none. This interpretation has two fallacies. First, that Admiral George Dewey "fought for Philippine Independence." Second, that the United States recognized the validity of the new Filipino Government under General Emilio Aguinaldo. Nothing could have been further from the truth in either case.
John Foreman, American historian of the early Philippine-American War period stated that, "Aguinaldo and his inexperienced followers were so completely carried away by the humanitarian avowels of the greatest republic the world had seen that they willingly consented to cooperate with the Americans on mere verbal promises, instead of a written agreement which could be held binding on the U.S. Government." In fact, Aguinaldo in his book, "A Second Look At America," admits he naively believed that Dewey "acted in good faith" on behalf of the Filipinos.
By this time, McKinley, driven by a new policy of imperialistic expansion and International Manifest Destiny had already decided on the fate of the Philippines and had never intended to recognize Philippine Independence. McKinley "controlled all the information coming from the Philippines. When he reported to the American people and the U.S. Senate that the Filipinos had attacked American troops in Manila, the U.S. Senate readily approved the Paris Treaty with the support of many misinformed Americans."
Aguinaldo did try to have his government recognized by the U.S. by first having "other foreign powers recognize its declaration of independence." Felipe Agoncillo and Felix Roxas were even sent to present the case of the Filipinos during the Paris negotiations.